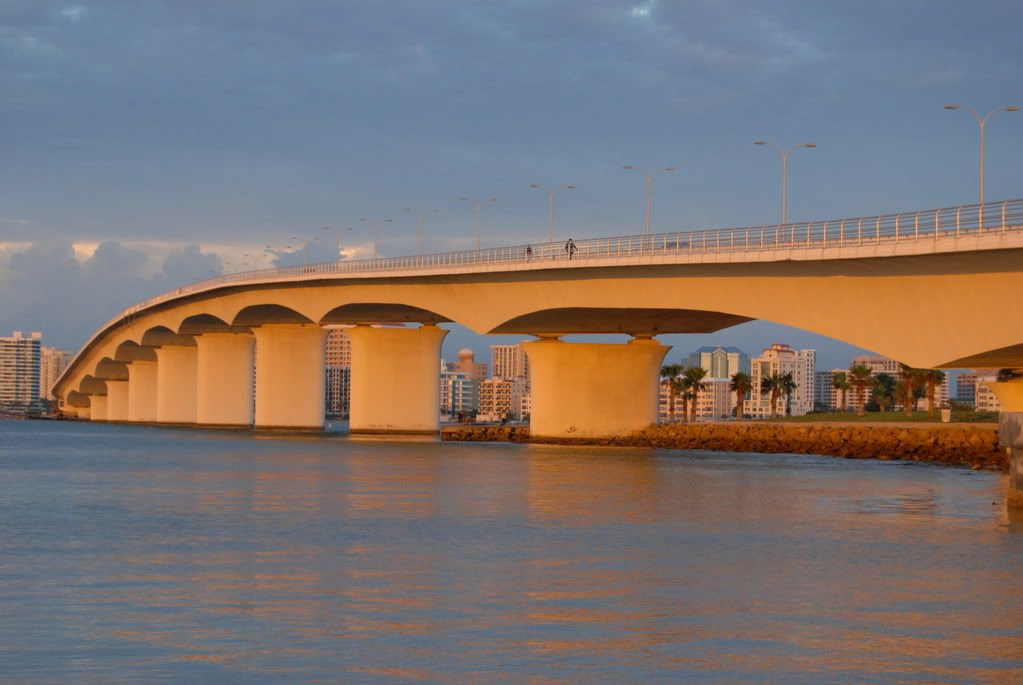 I haven't posted in a while. Truth is, I've been very, very busy. My life has changed drastically over the last year. I went to work for a hospital in Springfield last September. There's another whole different story that I won't go into about how and why I started work when and where I did. Seven months later I transferred with that hospital to an associated branch in Orlando. A move from small town Missouri to Orlando was a drastic one and need I say a culture shock. Orlando, it turns out, is a city of extremes. But the thing I could not get used to was the traffic. The hustle and bustle was dizzying. I spent a lot of time searching the windows of the thousands of cars I saw on a daily basis for 26.2 stickers - anything that would tell the world that there were other runners out there. I saw ONE, the whole time I was there. Orlando was not a bad place, but it just was not the place for me. So I began scouting the area for a more laid back way of life and alas, my hunting came to an end when I was offered a great job in Sarasota. We visited the area and loved it! Without hesitancy, I quickly accepted my new job offer.
I have lived in Sarasota a week and a half now. It already feels like home to my family. This is what we have searched for for years! We have spent our time
blissfully
running on the beautiful white sand beaches and deliriously biking the quaint little island of Siesta Key. The beaches are one of Noah's favorite places, and I have concerns that he may grow fins! After feeling so left out of my passion of running and biking in Orlando, I am now in a triathlete's paradise. There are 26.2, 13.1, 70.3 stickers plastered in the windows of lots of cars here all whom honk, wave, or give a thumbs up to others who have the same stickers. Acknowledgement to the connection and appreciation to all things physical.
This morning, my husband and I joined a running group. We showed up at 5:30am this morning at Fleet Feet downtown Sarasota expecting to get in a pleasant run and get to know some fellow runners. What I did not expect to find on this run was a secret world of runners. We began our run downtown Sarasota and headed towards Ringling Bridge (pictured above). As we got closer to Ringling Bridge
I was surprised when I began to see hundreds of other runners and running groups running in the dark. There was hardly any traffic and the few cars that were on the road slowed down and respected the runners. Where have I been??? This was a runner's heaven! I felt as if I had discovered a whole new world. There were all shapes and sizes of people running all different paces. It was awesome! We ran the most beautiful route
onto Bird Key and around Lido Key. We ran 10 miles in sweet paradise.
This afternoon, while I was writing this blog, my husband was outside and met our new neighbor. He brought her in to meet me. Low and behold, she is a triathlete. She had just completed a triathlon this morning. She has also done 4 or 5 half ironman's. Her wealth of information and accomplishments were astounding and motiviating. I can't wait to get to know my new neighbor more!
I'm looking forward to learning more about Sarasota and all that it holds. I hope to start blogging again about my training and all the ups and downs. Life is good!
Lunch with my family
after a long run
at Pei Wei's - $20.00 . Pedicure for my aching feet - $25.00. Finding the place that is home sweet home - PRICELESS!
I will keep you posted!
Namaste'
**Just a side note : If I could move the rest of my family and friends here from Missouri it would be PERFECT!!! I do miss them so.